(What's this? Another review? Well, I read on the way to work, okay.)
Born in a whorehouse in the slums of Fortuna and burdened with a prosthetic arm, seventeen-year-old JANET REDSTONE doesn't think she owes the Clockwork Gods anything—which is why she makes a living stealing from their temples. But when she lands her team in prison, making a pact with the God of Mischief, ITAZURA, is the only way to right her wrongs and free her friends.
Janet doesn't trust Itazura as far as she can punch him, but with her soul in his hands, she has no choice but to do what he says. The clockwork gods and the bad-tempered elder gods of the ancient past are locked in a game of cat and mouse and the human realms are caught in the middle. If Janet can't somehow convince the gods to step in a save the world, humanity is in an abyss of trouble.
Using her unconventional wits, an impressive tolerance to alcohol, and a strong right hook, Janet has to convince the gods that humanity is worth saving. Unfortunately, it's a lot more difficult to stop an apocalypse when you're slowly being driven crazy by the Lord of Mischief, especially when he starts growing on you.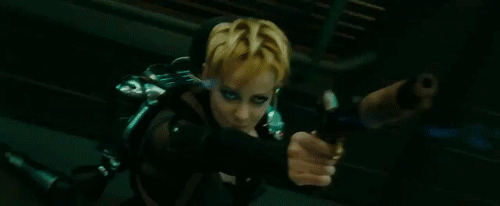 (Also, yay, an excuse to use Steampunk gifs!)
Author Aimee Hydman is someone I admire, having acquired an agent and deal during college/university. So, I was eager to get my teeth into her debut, particularly as it's Steampunk right off the bat.
It's hard for me to pick a favourite element of the book. The setting was luscious but not over-described – Fortuna, Janet's home city lies on part of a clock-shaped world. I am rather jealous, actually, of how Hyndman incorporated her world-building into the Steampunk aesthetic of the novel and explained through it the human characters' relationship with the clockwork gods.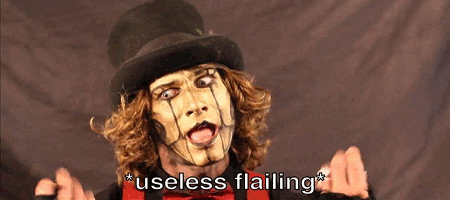 Speaking of the characters, they were also engaging. Janet's the kind of spunky heroine that my teen MC, Agnetha, would hate and be best friends with. It wad great to have the book narrated by Janet; she makes a number of questionable decisions – yet, one understands her reasoning and even supports her. Not only because we see it through her eyes, but also because she is fearlessly faithful to her friends.
Speaking of which, I was sad we didn't get to see more of the Pendulum Thieves, but, again in retrospect that the is a book1, My favourite character, however, was the goddess Laetatia. Despite being world-weary and as assertive as Janet, she is a foil to Janet with her femininity and elegance. She combines Janet's strong qualities with a softness that makes her an appropriate companion/big sister figure in the novel.
There was also a lot of set up for later, with hints of foreshadowing here and there that I appreciated. Got to love some subtle foreshadowing (though, Shakespeare does tend to ram it in your face…). Granted, I didn't realise this was the first of a (potential) series until the final chapter, so I was expecting the mysterious elements to be wrapped up by the end. Okay, I'll admit that I was a little disappointed they weren't, but at the same time, I liked that they weren't all solved. Hyndman avoided rushing the reveals with some deus ex machina explanation or the old "as you know, Fred…" trope. (You can tell I've been editing the end of my first-draft novel, cant you? *grin*)
I planned not to be interested in any potential sequels (I have too many books on my to-read list to be involved with series at the moment) but the cliff-hanger-esque feeling to the ending meant that there are so many questions still unanswered in the novel that I want to snatch up the sequel if it's published.
4 Steampunk pieces out of 5.
I took a star off for the typos I noticed. I consider this not the fault of the author but of the editor, who I would expect to have caught these things before publishing, and whilst I do admire Curiosity Quills Press, I have heard of a few editorial problems from them.
Would I recommend the YA Steampunk novel? Absolutely. It's an adventurous quick read with a take-no-trouble-from-anyone heroine and, yes, a somewhat dreamy god who'd rather give you a trick than be a hero.
~
About the author:
Aimee Hyndman has been writing ever since her toddler fingers could grasp a pencil. A lover of all things speculative fiction, she spent many a night penning the beginnings of novels that would never see the light of day. Now attending college in Iowa, double majoring in Creative writing and English, she has clearly never lost her love of the craft.
When not writing and avoiding her school work, Aimee enjoys reading, singing, and acting at her school's theater department. She is also a lover of anime and all things Disney.
Her area of specialty is fantasy of all sorts but she dabbles in many genres— whatever she feels compelled to write at the moment. The plot bunnies are never ending but, luckily, so are the words!